Jamaica's Dream Weekend is the Caribbean's largest party experience catering to over 40,000 people each year.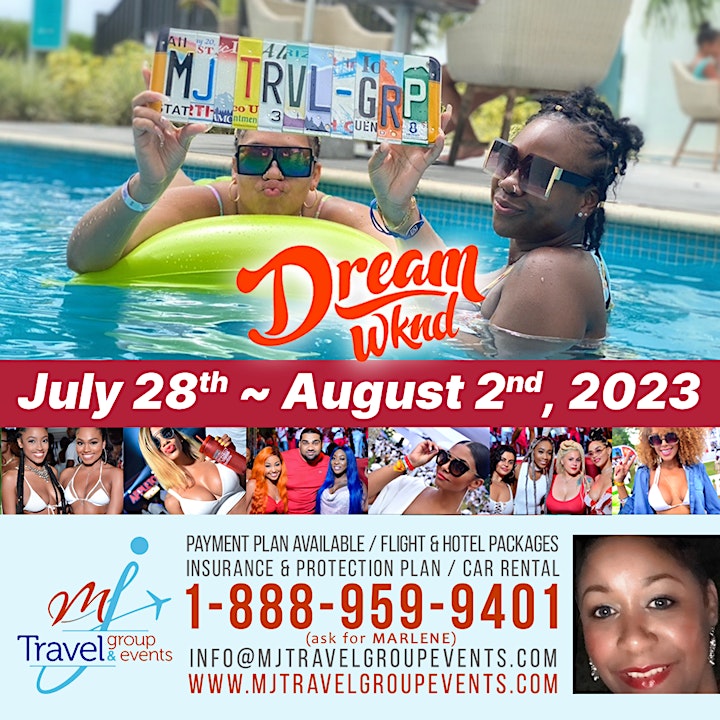 DreamWeekend is held on the white sand beaches of Negril, Jamaica. The event spans from 5 days of parties with popular high-energy genres of music, performances by local and international artists, inclusive of world-class liquor and food, with a level of production that makes the event the most desired by people of all ethnicity from around the world.
Dream Weekend is an annual multi-day music festival in Jamaica. It's the Caribbean's largest and most popular music event which happens on the beautiful white sand beaches of Negril, Jamaica.
How to book:
ALL-INCLUSIVE HOTEL PACKAGES
Rates are based on double occupancy and prices are subject to change until deposited. Pre and post-dates are available, some hotel occupancy is limited to 3 adults maximum to a room. The deposit is non-refundable and non-exchangeable.
For current rates, please call our office at 1-888-959-9401 ext 1
All prices are in USD currency ( flexible days are available)
Deposit is Non-Refundable
Hotel Deposit is $100 per person
Rates below are based on Double occupancy and event dates ( July 28- August 2, 2023)
Deposit on Flights and Hotel packages will depend on the airline carrier when booking.
The most popular resort is Riu Negril and Royalton and Hideaway . We recommend TO book early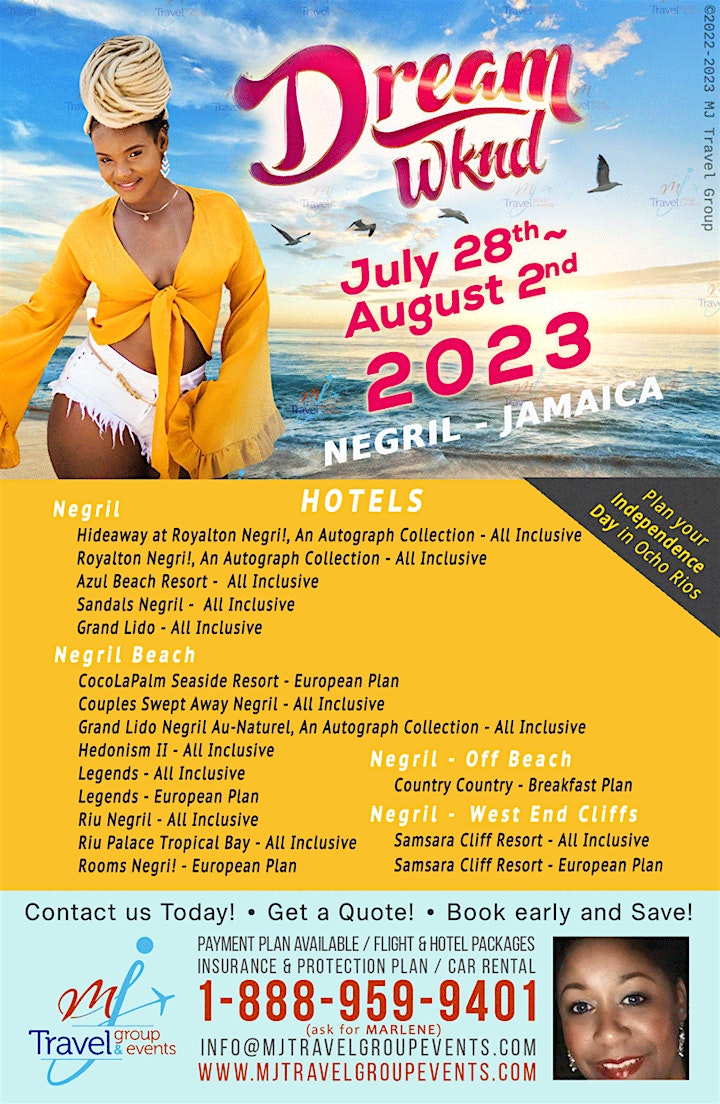 MJ Travel Group will provide:
Great customer service
Best group prices possible
Payment plan
Travel protection is recommend
Flights and Hotel Packages are available upon request
PP= per person rate
All rates are based on double occupancy, Single rate can be purchased
Low Deposit
Recommend travel dates (July 28 – August 2nd, 2023)
Feel The Vibe of Jamaica
There are many reasons one might dream of visiting Jamaica and our culture sits high at the top of that list. There's just something novel about Jamaica, something undeniably exquisite that attracts visitors to our shores time and time again.
As soon as you step foot onto Jamaican soil, you feel the vibe. That energy is unmatched. Nothing can compare to experiencing it for yourself. Come dive into an authentic Jamaican vacation full of vibrancy, electricity, unrivaled charm, and untouched beauty.
Jamaican Cuisine
Our food is known worldwide as some of the best cuisines around. It is spicy and flavorful and full of fresh ingredients. Everybody loves a good jerk dish or a hot, flaky patty, fresh from the oven. Our oxtail is well-loved and even our ice-cream has been ranked as some of the best in the world.
Which Jamaican foods are you just salivating for? There are so many things you must try when in the land of rhythm and spice like our ackee and salt-fish and our wide-ranging array of tropical coconut sweets.