Here are a few tips to help you make informed decisions about the 2 Caribbean Carnival in Atlanta
The question was asked by a member in our forum. Yes, there are two Caribbean Carnivals in Atlanta, one is the Atlanta Caribbean Carnival in Downtown Atlanta and the other is the Atlanta Dekalb Carnival. These occur on the same day in two separate locations. Do not go to the wrong Caribbean Carnival in Atlanta.
Miami Carnival is over and people are looking forward to the next Carnival. Officially, up next is Atlanta Carnival on, Saturday, May 28th, 2022.  so if you've never been to the Atlanta Carnival, you may not know how to register for a costume or which Carnival to attend, this article will help you make the right decision.
The 2 Atlanta Carnivals
Atlanta Carnival ranks as one of the largest Caribbean Carnivals in the United States. As of 2016, there were two Atlanta Carnivals, instead of one.
Atlanta-Dekalb Carnival (ACBC), learn more here
Atlanta Caribbean Carnival (ACCBA), learn more here
What You Need To Know About The Atlanta Caribbean Carnival Banders Association (ACCBA) The Atlanta Downtown Carnival used to be the main Carnival in ATL. Since the split up in 2016, the Atlanta Downtown Carnival has gotten smaller, but it also has a great atmosphere. For more up-to-date information on Mas Bads and Parade Route, please see the link above.
What You Need To Know About The Atlanta Carnival Bandleader's Council (ACBC), was formed in 2015 after it split from the ACCBA. Since then, Atlanta-Dekalb Carnival has been known as the bigger Carnival in ATL with more Mas bands. Their website linked above has not been updated yet, but you can follow the official Instagram page for more information.
Listed below are participating bands and launch dates for Atlanta-Dekalb Caribbean Carnival
12/12/2021: We Kinda Ting Mas
1/7/2022: Savage Mas
1/8/2022: Sokah Fetters
1/9/2022: Poison Mas
1/15/2022: Feter's Army
1/16/2022: Inferno
1/19/2022: Mas Vibez
1/22/2022: Reggaematic
1/29/2022: Sesame Atlanta
1/5/2022: T&T Garage Boys
1/23/2022: Madd Flava
1/30/2022: Panache
2/12/2022: Entice Mas
2/19/2022: Madd Colors
2/20/2022: We Live
2/26/2022: Paradise Carnival Troupe
2/27/2022: Madd Flava
3/5/2022: Vibez and Vision
3/12/2022: Unity Mas Band
3/19/2022: Panyarders Mas
Where should you stay for Atlanta Caribbean Carnival?
Over the past several years, the Atlanta Carnival parade has ended in Central Park, 400 Meritz Street NE, Atlanta, GA 30308. According to the Atlanta Carnival Leaders Association (ACCBA), the parade route will remain the same this year.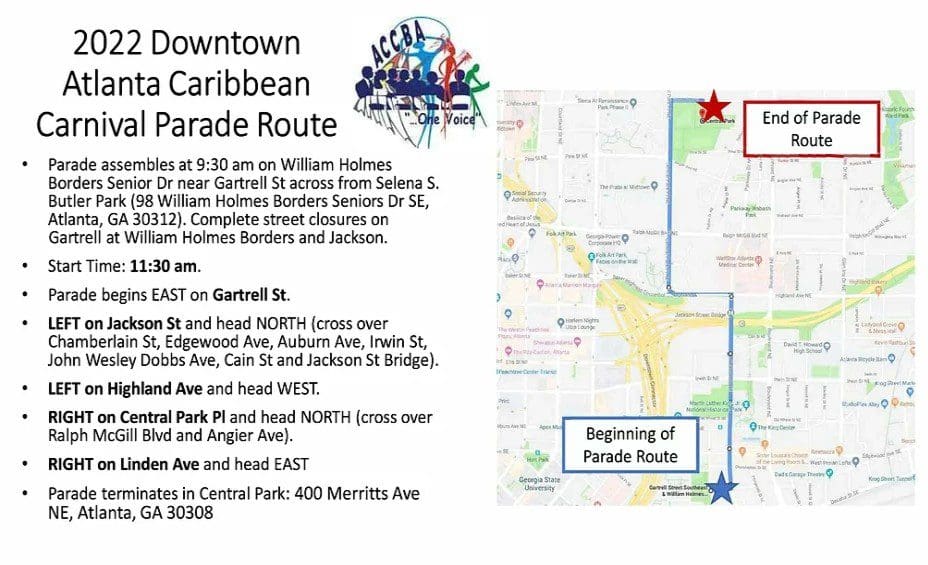 The Atlanta-Dekalb Carnival parade route ends near The Stonecrest Mall Carnival for the past few years, the address is 2929 Turner Hill Road, Stonecrest, GA 30038. The route of the Atlanta-Dekalb Carnival Parade may change this year, but nothing has been confirmed yet. Join our Carnival Talk Group for automatic updates.
Both Carnival locations have many hotels in the area if you want to stay close to the parade route. As a best practice, map out the costume distribution locations, the fetes you will be attending with a hotel or Airbnb, and the parade route.
So which Atlanta Carnival should you attend?
That's really all there is to it. Your best bet is to consider what the most important factors are to you and base your decision on that. Does money matter? If so, choose based on costume price and the total number of fetes you'll be attending for the cheapest option. If you care more about the culture of the crowd and community, choose based on who has a better reputation and history with that aspect. If you ask enough people, do enough research beforehand, you will find out that both Atlanta Carnivals, are good. So trust your gut, and whichever event you choose you will certainly have a great time!